High-performance trailers
VERSATILE DUMP BOXES
DUMP TRAILERS FOR ALL YOUR NEEDS
Galvanized tipping trailers from N&N are what you need for tough jobs moving gravel, earth, wood or machinery. Designed for ease of use, our trailers feature a double chassis dump box that prevents the tipping bed from buckling even under the weight of very heavy loads.
Versatile | Light | Easy handling
TIPPING TRAILER – INNO MODEL
Our versatile INNO model offers all the features you want from a low-weight tipping trailer, including easy handling. Ideal for earthmoving and transporting wood or light machinery.
Rugged | Massive build | Heavy-duty
TIPPING TRAILER – HD MODEL
The rugged and powerful HD tipping trailer is designed for heavy-duty work. Tough and reliable, the HD is the ideal trailer for transporting oversized loads and moving heavy machinery.
N&N tipping trailers offer the benefit of galvanized metal construction and a telescopic cylinder at the front of the dump box. They can be custom fit to perfectly meet your needs with a wide selection of options, everything from a Honda gas engine to an aluminum tarp cover.
TELESCOPIC CYLINDER 3 STAGES
GALVANIZED RAMPS UNDERMOUNT
ALUMINUM RAMPS OR GALVANIZED FENDER MOUNT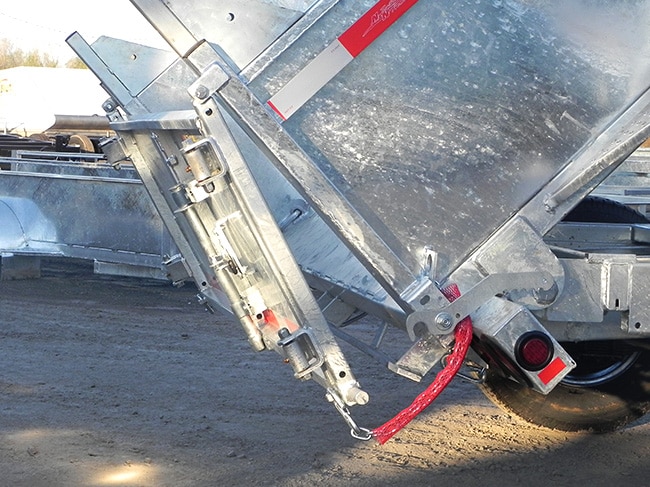 ADJUSTABLE COUPLER 5 POSITIONS
SLIPPER SPRING SUSPENSION
REINFORCED SPRING HANGERS
RADIAL TIRES ON GALVANIZED RIMS
SPRING ASSISTED TARP REEL
GALVANIZED FOR GREATER DURABILITY
All N&N tipping trailers are hot-galvanized for greater protection. A zinc coating prevents corrosion of the base metal and offers long-lasting protection from surface damage. Your N&N tipping trailer will thus last longer and require less maintenance.
INNO Model
60 x 120
72 x 120
72 x 144
Usable width
60 in
72 in
72 in
Usable length
120 in
120 in
144 in
Axles
2 x 3 500 lbs
1) 2 x 3 500 lbs
2) 2 x 5 200 lbs
2 x 5 200 lbs
Brakes
Electric
Electric
Electric
Tires
ST-205/75R14
1) ST-205/75R14
2) ST-225/75R15
ST-225/75R15
Weight when empty
2 000 lbs
2 500 lbs
2 600 lbs
Load capacity
5 500 lbs
1) 5 500 lbs
2) 8 030 lbs
7 920 lbs
Trailer length
182 in
182 in
182 in
Trailer width
78 in
92 in
92 in
Decking
Steel 11 GA
Steel 11 GA
Steel 11 GA
Lighting
DEL
DEL
DEL
Finish
Hot dipped galvanized
Hot dipped galvanized
Hot dipped galvanized
HD Model
72 x 120
72 x 144
82 x 144
82 x 168
82 x 192
Usable width
72 in
72 in
82 in
82 in
82 in
Usable length
120 in
145 in
145 in
168 in
192 in
Axles
2 x 5 200 lbs
1) 2 x 5 200 lbs
2) 2 x 7 000 lbs
1) 2 x 5 200 lbs
2) 2 x 7 000 lbs
2 x 7 000 lbs
1) 2 x 7 000 lbs
2) 3 x 7 000 lbs
Brakes
Electric
Electric
Electric
Electric
Electric
Tires
ST-225/75R15
1) ST-225/75R15
2) ST-235/80R16
1) ST-225/75R15
2) ST-235/80R16
2) ST-235/80R16
2) ST-235/80R16
Weight when empty
2 900 lbs
3 100 lbs
3 500 lbs
4 200 lbs
4 500 lbs
Load capacity
6 900 lbs
1) 6 700 lbs
2) 11 990 lbs
1) 6 300 lbs
2) 11 550 lbs
10 780 lbs
10 450 lbs
Trailer length
182 po
205 po
205 po
228 po
252 po
Trailer width
93 in
93 in
100 in
100 in
102 in
Decking
Steel 11 GA
Steel 11 GA
Steel 11 GA
Steel 11 GA
Steel 11 GA
Lighting
DEL
DEL
DEL
DEL
DEL
Finish
Hot dipped galvanized
Hot dipped galvanized
Hot dipped galvanized
Hot dipped galvanized
Hot dipped galvanized
FIND THE NEAREST N&N TRAILERS DEALER